Welcome to our introduction to the CAT4 Figure Classification practice test questions.
CAT4 Figure Matrices test practice (Years 4 to 12)
Here,
School Entrance Tests
' focus is on the top CAT4 Figure Matrices test practice to use in 2023, encompassing:
GL Assessment's Figure Matrices test practice for each school year and
Also explaining why these are the best CAT4 Figure Matrices test practice to use/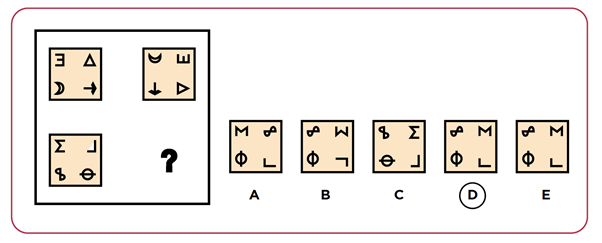 Our step- by-step CAT4 revision guide for parents and CAT4 tutors
School Entrance Tests believe your first step is reviewing the eight CAT4 sections. We therefore provide a free sample on each of our CAT4 section pages. The free CAT4 Number Analogies sample is provided here:
Step-by-step CAT4 practice test guide for tutors and parents
School Entrance Tests recommend as a first CAT 4 revision step, reviewing our FREE CAT 4 Figure Classification sample questions. Then moving onto the targeted CAT4 Figure Classification below.
NOTE: ensure you purcahse the correct age level for your child.
Then secondly, reviewing the different types of CAT 4 question within each of the eight CAT4 sections. We recommend purchasing the specific school year practice CAT4 Papers from the buttons above. This is because all the types of Figure Analysis question are included multiple times. Thus your child will receive plenty of practice in all Figure Analysis question types.
And thirdly focusing on the training video(s) for the CAT4 sections where your CAT4 performance is the weakest.
What are these CAT 4 practice tests' benefits?
Detailed visual explanations are provided for every single question.
By researching the Figure Matrices CAT 4 module in detail, we've managed to identify all of the CAT 4 Figure Matrices question types.
For each CAT4 level, there's a unique set of 6 targeted CAT4 practice tests that will help your child prepare for the Figure Matrices module in the CAT4 test.
So, in summary, there are two key factors:
Firstly, these are THE most accurate and efficient way to prepare for the CAT4 Figure Matrices module.
And secondly, they will introduce your child to all of the possible types of CAT4 Figure Matrices question.
How are non-verbal reasoning skills being assessed by the CAT4 Figure Matrices?
In the Figure Matrices test, each question presents a figural analogy in the form of 'A-B, C-_'.

Students have to work out how the first pair of figures is related to each other and then select from five answer options the one that completes the second pair.
Are there other CAT4 skill requirements?
Yes. All of the four key aptitude test areas are assessed by the CAT4 battery.
Each by two CAT4 sections, as detailed below:
Other free CAT4 test practice resources
2023 CAT4 test practice by sub-section
In addition to our CAT4 Figure Matrices practice tests, here's other targeted CAT 4 test practice by CAT4 section.
Each of these CAT4 practice tests will effectively prepare your child for the CAT4 exam.
Our 2023 CAT4 skills practice tests
Hope your find our CAT4 Figure Matrices test practice useful in passing your CAT 4 assessment.
CAT4 Figure Matrices practice tests was